Disaster Cleanup in North Bergen, NJ 07047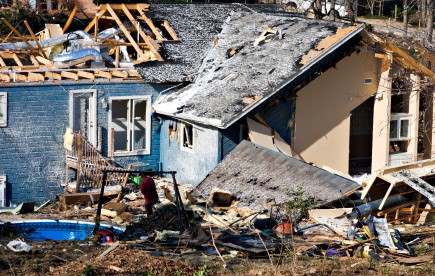 Mother Nature can wreak havoc on your property. Whether the damage to your North Bergen home or office was caused by earth (earthquake), wind (tornado), water (flood), or fire (lightning), EZ Restoration LLC knows that the damage from a natural disaster can be devastating. When you need disaster cleanup and reconstruction, North Bergen's leading reconstruction expert can help you get back on your feet and feel safe again. Our professional reconstruction experts will provide a thorough analysis of the damage to your property and recommend a plan that takes your safety into consideration. Call (844) 289-7209 for quality reconstruction services when you suffer through devastating damage.
EZ Restoration LLC offers 24/7 emergency service in North Bergen, NJ and surrounding towns. Call (844) 289-7209 for immediate, safe, and professional restoration of your North Bergen property.
Advantages of Choosing EZ Restoration LLC
We get to you quickly because we service the North Bergen area
Emergency board up services to minimize property damage
Priority on ensuring structural integrity of your building
Professional reconstruction of your North Bergen property with the highest quality construction materials
Safe removal of all debris
Immediate inspection of all structural surfaces
Minimize insurance paperwork by handling all claims

EZ Restoration LLC has provided professional reconstruction services in North Bergen, New Jersey for 6 years. When your property needs reconstruction, call (844) 289-7209 for quality service North Bergen residents can count on.
Why You Can Trust EZ Restoration LLC to Restore Your Surroundings
EZ Restoration LLC gets on site quickly to assess your damage and recommend a cost-effective reconstruction plan.
Provide expert residential and commercial building repair by highly-skilled carpenters
Our skilled craftsmen restore your property with the highest quality construction materials available
Restore all electrical & heating services.

EZ Restoration LLC: proudly serving North Bergen, New Jersey since 2013
WHAT CUSTOMERS ARE SAYING:
"The EZ Restoration team was amazing in my time of need. After calling at 1am due to a major water leak, the team was at my apartment within 30 minutes. They made the process painless and were on time for all of the follow up work involved in getting our home back in shape. Cesar and team, thank you so so much again for everything. I was so lucky to find you! Thanks for taking care of our home."

Ferris D'Angelo
---
5★★★★★ - "I would like to thank you for your prompt and reliable service in helping me dry up my basement after having water issues in my basement. I will definitly use your services in the future and recomend you to anyone that needs your services."
Zak of Zak Magic Entertainment Group, Water Removal
2014-07-01
---
5★★★★★ - "We have recently received services from a couple of gentlemen from EzRestoration LLC that were EXCEPTIONAL. Not only was the service extremely professional and efficient they understood the sensitivity of our product getting all the moisture out of the room as well as sanitizing the space. Hopefully we don't have another flood situation but if we did EzRestoration LLC has been put in our speed dial just incase. Thank You Cesar for all the help on Sunday April 13, 2014 WE APPRECIATE IT!"
Water Damage Restoration
2014-07-01
---
Call for FREE Disaster Cleanup Quote
---